What do you do when you're traveling with your #girlsquad across three countries within ten days? CiaoBella guest contributor and my intern Molly Dooling explores the United Kingdom and Ireland in search of the perfect souvenir.
kitsch [kɪt]ʃ
noun
:art, objects, or design considered to be in poor taste because of excessive garishness or sentimentality, but sometimes appreciated in an ironic or knowing way.
adjective
:
considered to be in poor taste but appreciated in an ironic or knowing way.
Traveling for eleven days can be amazing, stressful, inspiring and exhausting all at the same time.....now imagine that with eight girls adventuring through London, Edinburgh and Dublin, visiting museums, castles, and neighborhood bars. Before setting out on our Grand Tour, I was asked by my boss Erica to keep an eye out for souvenirs. But not just any old key chain or figurine; specifically kitsch souvenirs. Why? Erica has an odd obsession with funky souvenirs and was interested to see what I could find. From #londoner pajamas to "paddidas" t-shirts, I saw it all while traveling throughout the UK.
London
We planned our first four days to be in London. And for Day One, my friends and I went on a Fat Tire Bike Tour throughout Royal London. Starting at Kensington Palace, we looped through the Royal Parks, rode past Westminster Abbey, and finished at Big Ben, all within the span of four hours. It was one of my favorite parts of the entire vacation because we got to see so much of a city (in this case, London) within one afternoon.
After riding on those tiny seats for about two hours, we stopped near Trafalgar Square in the center of Westminster for a quick bite to eat. In the center of the square is Nelson's Column, a monument made to commemorate Admiral Nelson who perished in the Battle of Trafalgar. It's guarded by four life size lion statues...rwar! I grabbed a trail mix at Pret Amanger, then my friends and I decided to check out the area. My eye was immediately drawn to a store that had random pajamas hanging outside up on a grate. It looked like a vertical version of my closet floor. The oddest for me were the nighties and footie pjs with the phrase, #londoner, printed across the chest. Even Paddington Bear was on the pjs, an old storybook character from English literature. I stopped in for a minute or two, and then I was back on my fabulous bike tour.
After four hours, the bike tour ended at the Fat Tire Shop and inside I found Queen's Guards magnets at the choice price of £2. These same guards I had passed on the tour are practically synonymous with London. They stand in front of the palace wearing the classic red uniforms, never cracking a smile or speaking a peep. About three times a week, always at 11am sharp, is the Changing of the Guards spectacle. Tourists crowd around the palace gates as the trained soldiers march to a drum corps. The magnets, although small, speak volumes to London's history.
For the second day in London, we were all about the Tower of London and London Bridge. Both were incredible! After singing Fergie's "London Bridge" on repeat the entire day before, it felt like I owned the bridge as I strut across it. Afterwards we admired the gorgeous crowns and gowns from centuries past of royal rulers, tucked safely inside the The Tower of London. Outside the tower and down the street, I spied a shop with an unfortunate name; SAAD Souvenirs. I knew I had to get a closer look at what they were selling. The name was perfect. The size of a closet, the store only sold random baseball hats and t-shirts. Not quite what I was looking for.
When I told friends and family from my small hometown about our plans to visit Edinburgh, they were not quite sure why my friends and I wanted to travel there. What's there to see? What's there to do, I was asked? To be honest, visiting Edinburgh just fit into our itinerary. But when I began to research Scotland, I knew I had to see Edinburgh's amazing castles. And guess what? I was right. The small town charm made me fall in love with this ancient city. The boy's accents weren't terrible either. Even though we only had two days in Edinburgh, it is one of my favorite places in the world I have ever seen...as of yet.
First stop was Edinburgh Castle. Mary Queen of Scots and King James IV were just some of the big names who lived inside the castle walls. Thanks to the free guided tour that comes with the ticket, we walked through the royal living quarters, the dungeon cells and cozy wooden beds, and even the cannons used to ward off enemies. St. Margaret's Chapel, located on top of the castle hill, is the oldest standing building in Edinburgh. Afterwards we stopped by the castle's on-site gift shop where I found an adorable onesie for a little prince. Hopefully some little man out there will find his princess wearing this getup!
Walking down Edinburgh's High Street, we came across House of Edinburgh, the place for an authentic Scottish scarf. Prices ranged from £15 for a basic blend to £100 for a soft, cashmere scarf. In the back of the store they had an eclectic assortment of objects and knick knacks; from magnets and keychains to plaid flasks and bold hats. My friends and I had been challenged multiple times to "keep up" with the locals in the pubs, so I knew that Scots loved to drink! The plaid flasks were a fun spin on what it really means to be a Scot, and a perfect souvenir.
At the end of our last day, we were exhausted after trekking 250ft. up to King Arthur's Seat. The seat got it's royal name from Camelot, the legendary castle of British warrior King Arthur. An incredible panoramic view of Edinburgh is found at the top, just wear comfy sneaks! We decided to celebrate our last night by grabbing a drink at a cozy pub near our hostel.
Hey, Harry Potter geeks out there, like me, Edinburgh is home to the Elephant Cafe. This local tea and coffee shop is where J.K. Rowling wrote many books in her acclaimed series, and Victoria Street is the inspiration for Diagon Alley.
Last stop: Dublin, where we dedicated four entire days to sightseeing. It was intense. We toured the Guinness and Jameson factories, meandered through the Dublin Castle, St. Patrick's Cathedral, and the Temple Bar area, and even squeezed in a day trip to the Cliffs of Moher and Galway. In the rainy fishing town of Galway, tourist shops lined the streets, and I waded through all of them until I found this awesome paddidas shirt, perhaps the perfect gift from the entire trip. By the end of our time in Dublin, I came to the conclusion that the beer and cider in the UK tastes so much better than anywhere else in the world! But I was ready to get home.
Eleven days, eight girls, three countries; you do the math. It's hard to travel like this, but so worth it. Expect that everyday there will be some type of drama, whether it's splitting checks (and getting paid back), managing friendships and moods, or missing the bus. Kitsch doesn't always have to be an object, it can be a state of mind-a little humor in the cliche of travel.
Get a Break on a Budget?
Molly was all about minimizing spending while maxxing out on fun. She booked stays at Generator Hostel in Kings Cross, London ($40 per night), Kick Ass Hostel, Edinburgh ($15 per night) and Generator Hostel, Dublin ($45 per night). From Rome to London to Edinburgh to Dublin, she opted to fly RyanAir (which I would never do because something always happens to me), spending only $35 for one ways to Edinburgh and Dublin, and $100 to London from Rome-FCO. She flew back to Rome from Dublin on AerLingus ($120). Getting around each city was easy. In London, she saw the most of the must see sites on a group bike tour with Fat Tire (starting at $22/person), and purchased a refillable Tube pass- Oystercard- for everything else. In Edinburgh and for most of their trip in Dublin, Molly and friends put there best feet forward and walked everywhere. Wild Rover Tours took them via coach bush on a day trip to the Cliffs of Moher and Galway ($54/person).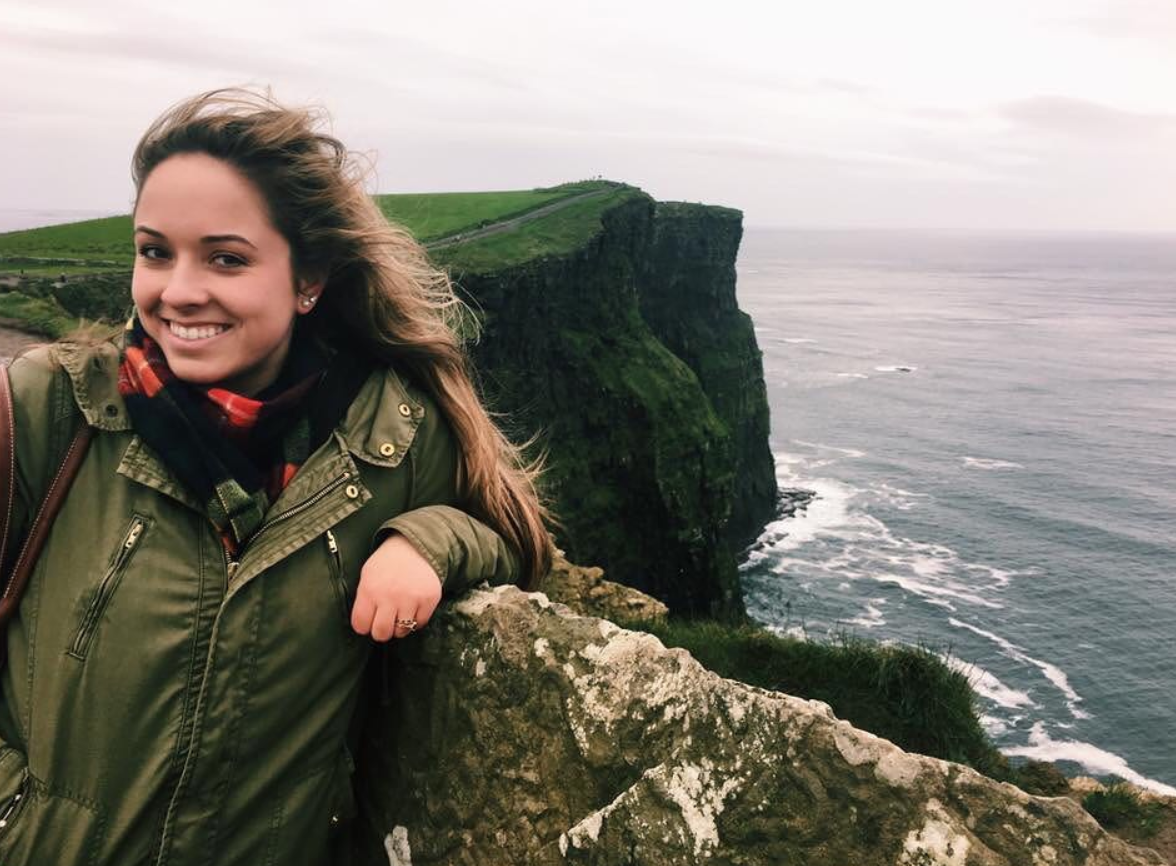 ... is from a small town in Montgomery County, Pennsylvania, and is a Communications Studies major [concentration in Contemporary Media] at Temple University. Studying in Rome this semester, she has traveled through Italy, Germany, Scotland, England and Ireland. Follow her adventures on Instagram. And yes, even in extreme situations, she really has awesome hair.